Brisbane's New Airport Runway: Posh Suburbs Set to Suffer
Construction of Brisbane's New Airport Runway is already underway with completion expected in 2020.  The project will have a major impact on the Brisbane economy.  It will double the airport's capacity and create almost 8,000 new jobs by 2035. Unfortunately increased air traffic will also cause a significant increase in noise, leaving many residents asking "Will my suburb be affected?".  In the following article, Brisbane Buyers Agency, Your Property Hound has investigated what impact Brisbane's new airport runway will have on residents and property prices.
Airport Design
Brisbane's airport has been designed to minimise the impact of aircraft noise on residents as much as possible.  This has been achieved by creating a 6km buffer zone (the largest of any major Australian airport) around the airport where residential development is restricted. The parallel design design, and orientation of the runways maximises the number of flights occurring over Moreton Bay, rather than over the city itself.
Even with these design measures in place, aircraft noise will become more and more of an issue for Brisbane resdients as the number of flights per day increases.
Suburbs Most Impacted by Aircraft Noise
Currently the suburbs of Pinkenba, Seven Hills, Cannon Hill, and Morningside are most impacted by aircraft noise.  When Brisbane's New Airport Runway is complete, noise levels in some of these suburbs (Seven Hills, Cannon Hill, and Morningside) will actually actually improve.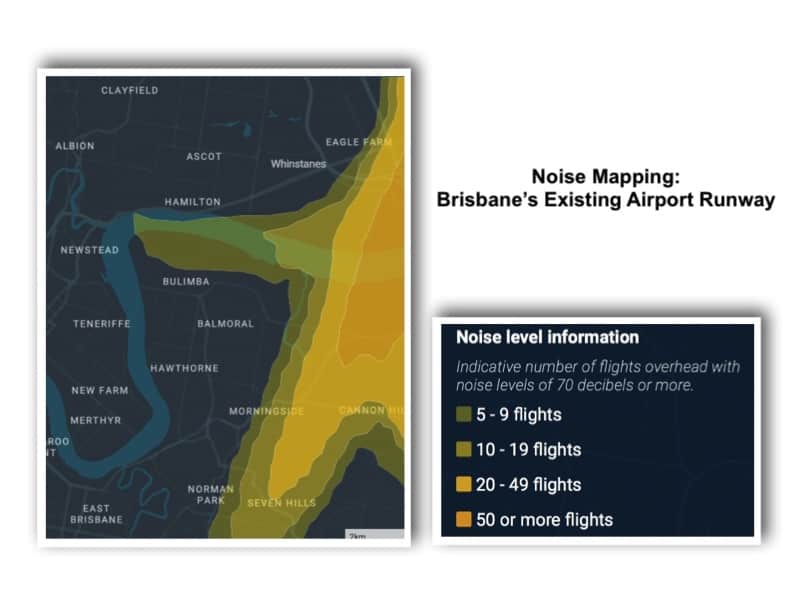 Once Brisbane's New Airport Runway is operational flight noise will be spread over a much wider area.  This includes some of Brisbane's most desireable and expensive suburbs such as Bulimba, Ascot, Hamilton, Hawthorne, New Farm and Newstead. Some areas will go from having little to no air traffic noise, to having significant noise many times per day. For instance areas on the eastern side of Hamilton will see more than 50 flights per day (above 70 decibels) comparared to zero flights per day (above 70 decibels) from the exisiting runway.
Other suburbs including Fairfield, Moorkooka, Annerley, Dutton Park, East Brisbane and Woolloongabba will also be directly under the new flight path.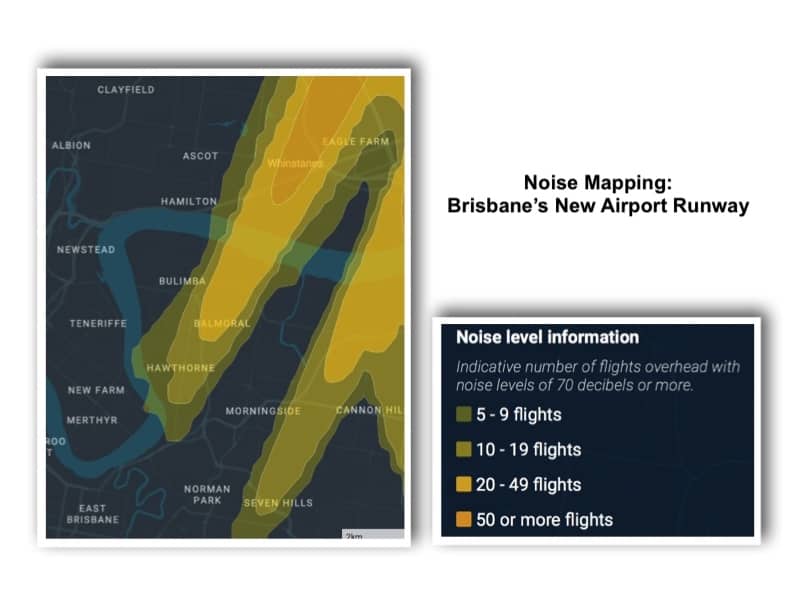 Flights per day with noise levels of 70 decibels or more

**

Suburb
Current Runway Only
With New Runway
Pinkenba
20 to 49
20 to 49
Seven Hills
20 to 49

10 to 19

Cannon Hill
20 to 49

10 to 19

Morningside
5 to 9

0

Hamilton
0

50 or more

Ascot
0

5 to 9

Bulimba
5 to 9

20 to 49

Balmoral
0

20 to 49

Hawthorne
0

10 to 19

New Farm
0

5 to 9

Norman Park
0

5 to 9
**A noise level of 70 decibels is likely to interfere with people speaking indoors (with the windows open) as per Australian standards.
It is important to realise that noise levels will vary depending on address of individual properties, wind direction, time of day, and season.  For detailed information regarding specific properties check out the following online mapping tool (click here).
How will the Additional Noise Impact Property Prices?
A study on the impact of aircraft noise on Brisbane residential property has been conducted by the Queensland University of Technology (click to view).  This comprehensive study, analysed data from 1988 onwards and concluded that aircraft noise does not significantly influence property prices. It found in fact, that in the suburbs with the highest number of aircraft noise complaints, property prices increased at a greater rate than in "quieter" suburbs.
According to the study, factors including proximity to transport, CBD, and good schools have a far greater impact on property prices than aircraft noise. It is worth noting (for the skeptics among us!) that the study was commissioned by the Brisbane Airport Corporation.
In the authors opinion, increased airtraffic noise created by Brisbane's New Airport Runway will be unacceptable to some residents, and will make some of Brisbane's most prestigious areas less desirable.  This may fuel greater interest (and price growth) in suburbs less impacted by noise especially in Brisbane's Inner north and west, such as Paddington, Ashgrove,  and Wilston.
Conclusion
Brisbane's new airport runway will have a significant effect on air traffic noise across the city with some of Brisbane' most exclusive suburbs most affected.
If you are considering purchasing a home or an investment property in Brisbane and are concerned about the impact the new runway may have on the quality of living and property prices it best to consult an expert with local knowledge. Your Property Hound will be able to provide advice on which areas are, and are likely to be affected by aircraft noise. Contact us for more information