Ashgrove – Buyers Agent's Guide
Are you looking to purchase a home or investment property in Ashgrove? As an Ashgrove Buyers Agent we'd be happy to help and have compiled the following suburb profile for your information. Best wishes with your Ashgrove property purchase!
Description
Ashgrove is an upscale, family-friendly suburb located 4km northwest of the Brisbane CBD. Ashgrove is best known for its beautiful, pre-war character homes, quiet streets, parklands and excellent schools.  Ashgrove is bordered by the suburbs of The Gap, Bardon, Red Hill, Paddington, Enoggera and Alderley
Demographics
The population of Ashgrove in 2011 was around 13,000 and continues to grow. 70% of households in Ashgrove are owner occupied and consistent predominantly of professional couples with children.
Shops, restaurants and entertainment
Ashgrove's main shopping and café precinct is located around the junctions of Waterworks Road, Steward Road and Ashgrove Ave.
Transport
Trains do not service the area, but several convenient bus services connect Ashgrove with the Brisbane CBD via Waterworks Road.
Schools
The area is home to a number of great private and public schools including:
Private schools
Marist College
Mater Dei Catholic Primary School
St Finbarr's Primary School
Mt St Michael's College
Public schools
Ashgrove State School
Oakleigh State School
Parks and Green spaces
There is an abundance of parks, sports grounds and green spaces in the suburb.
Banks Street Reserve is a beautiful green oasis providing kilometres of walking and cycling paths. Dorrington Park and the Enchanted Forest playground is a popular spot for weekend picnics with young kids. Ithaca and Enoggera Creek bicycle paths are used by many local residents to commute to the city.
Major employers
Most residents commute to the Brisbane CBD for work.
Most and least desirable areas
An area known as The Avenues (located between Waterworks Road to the south, Stewart Road to the east and Enoggera Creek to the north and west) is the most desirable, and most expensive, part of Ashgrove.
Traffic noise can be an issue for properties close to major thoroughfares including Waterworks Road, Jubilee Terrace, and Stewart Road. Buyers should check the Brisbane City Council Flood Maps, as some areas (especially along the creeks) are susceptible to flooding.
Housing type and typical block size
The vast majority (79%) of properties in Ashgrove are free standing houses.
The suburb is particularly well known for its 'Ashgrovian' style houses. These timber character homes were built in the late 1920s and mid 1930s, and are characterised by a grand gable roof, surrounded by smaller gables behind. Inside, bay or box seat windows are common as are ornate plaster ceilings. A typical block size for this type of home is 600 m2.
Post-war houses also occur in the area. Many of the post war homes have been removed to allow for subdivisions, and the construction of contemporary homes on smaller sized blocks (400m2).
What can my money buy in Ashgrove?
The median house price in Ashgrove is $1,242,500 which is well above Brisbane's median.
The median house price in Ashgrove would typically buy an unrenovated 3 bedroom,  2 bathroom house on a 630m2 block.
For example: 2 Quandong Street Ashgrove – sold for $1,251,000 in October 2021) (click to view listing and see images below).
The median unit price in Ashgrove is: $465,000.
This amount would typically buy a 2 bedroom, 2 bathroom, 1 garage unit in a newer style complex.
For example: 9/7 Ashgrove Avenue Ashgrove, QLD, 4060 – sold for $460,000 (May 2021) (click to view listing and see images below)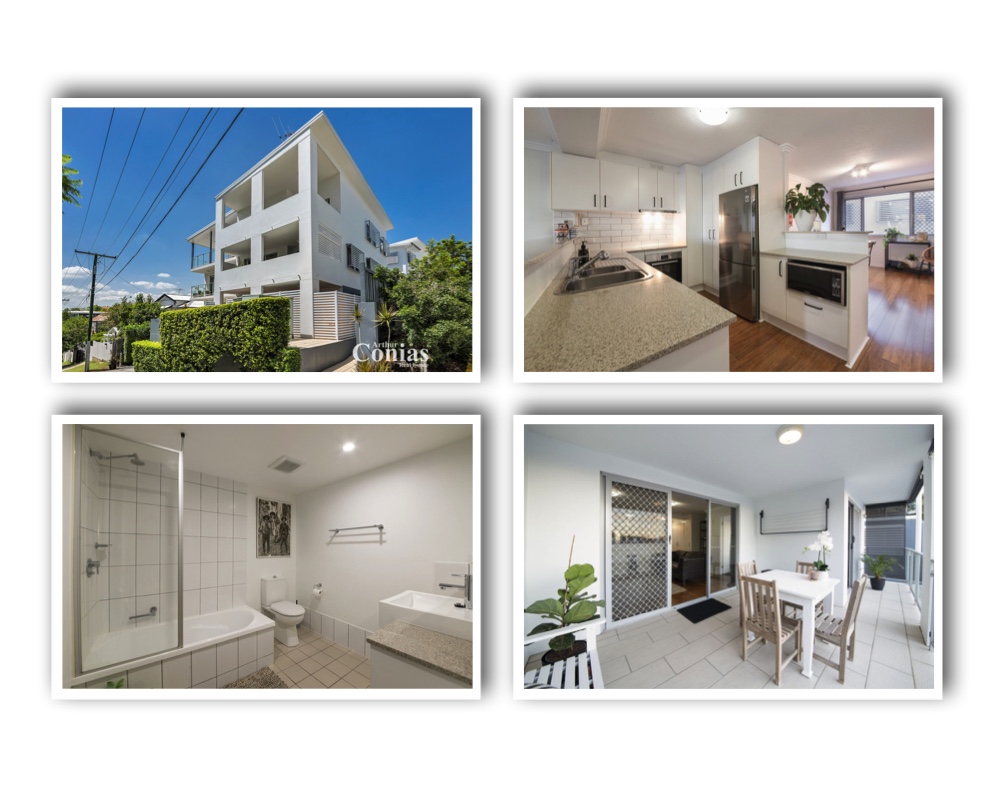 How has the Ashgrove property market been performing?
In the last 5 years the median house price has increased by a massive 47%!
Over the last 10 years, house prices have increased by 6.1% per annum.
Units in Ashgrove have seen more modest price growth. In the last 5 years the median price of units has increased by 3.3%. On average, over the last 10 years unit prices have increased by 1.2% per annum.
Supply and demand characteristics for Ashgrove
Average Days on Market: Houses 56 days.  Units:  57 days.
Ashgrove's auction clearance rates are 52% for houses.
The average rental yield for houses is 2.62%, compared to 4.59% for units.
There is a shortage of both houses and units currently listed for sale (1.11%)
The rental vacancy rates are very tight for both houses and units. (0.8% and 0.1% respectively)
**Statistics are accurate for Dec 2021
Check out Ashgrove's Community Facebook page (click here) for some additional information on the suburb.
Thinking about buying a property in Ashgrove? Our Ashgrove Buyer's Agent is more than happy to have a chat. Please contact us.