A Property Investors guide to Brisbane's Metro Project
What is the Brisbane Metro Project?
The Metro Project is a public transport infrastructure project planned for Brisbane. It will involve the use of Metro vehicles operating on existing busways.
The metro vehicles resemble a combination of a bus and tram. They are 24 metres long; have four axles (12 tyres) and four double-access doors. Each metro vehicle is capable of carrying 150 passengers. The vehicles can operate more efficiently than buses, carrying more people per driver and litre of fuel. By using existing bus ways, Metro vehicles are also more cost effective compared to trains.
New technologies will also provide a better experience for passengers including:
Free on board Wi-Fi access
Real-time travel updates
Off-board ticketing
Easy boarding via multiple doors
The Proposed Route
Two metro routes have been proposed:
Metro 1 – Eight Mile Plains to Roma Street. This route will operate on the South East and Inner Northern Busways.
Metro 2 – Royal Brisbane and Women's Hospital to University Of Queensland (St Lucia). This route will operate on the South East and Eastern Busways.
An underground station has been proposed for the Cultural Centre at South Brisbane. A depot for the metro vehicle fleet is to be constructed at Rochedale in Brisbane's south.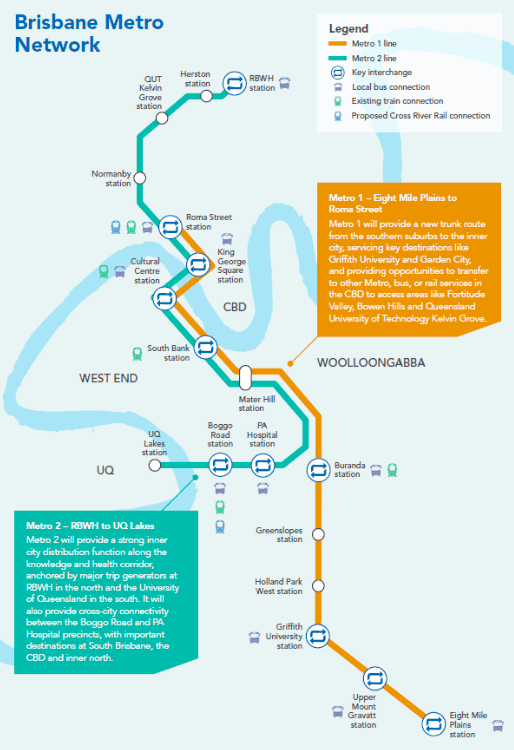 The metro project has been designed to integrate with Brisbane's existing public transport and Cross River Rail project. The Metro project will particularly improve transport between Brisbane's major hospitals and universities.
How will the Metro Project be funded?
The Brisbane City Council has agreed to fund two-thirds of the estimated $944million project. The federal government has has recently committed $300million to the project.
When will the project be completed.
A completion date in 2023 has been proposed.
How can Property Investors Capitalise on the Metro Project?
Improvements in public transport can make an area more desireable, increasing the demand for properties and fueling price growth. Suburbs immediately adjacent to the Metro stations are likely to benefit most. These include:
Brisbane Northside:
Bowen Hills
Petrie Terrace
Brisbane Southside:
Dutton Park
Woolloongabba
Greenslopes
Holland Park West
Mount Gravatt
Uper Mount Gravatt
Investors should proceed with caution given that the project is in its planning stage only.
For more information on the Metro Project consult the councils website: click here
Interested in purchasing an investment property in Brisbane? We'd be happy to help. Contact us to get started!