Enoggera Buyers Agent's Guide
Are you looking to purchase a home or investment property in Enoggera? As an Enoggera Buyers Agent we'd be happy to help and have compiled the following suburb profile for your information. Best wishes with your Enoggera property purchase!
Description
Enoggera is a popular leafy suburb located 6km northwest of the Brisbane CBD. The suburb is best known for Gallipoli Barracks, one of the largest army bases in Australia, taking up more than half the area of the suburb. Enoggera is bordered by the suburbs of The Gap, Keperra, Gaythorne, Everton Park, Stafford, Alderley and Ashgrove.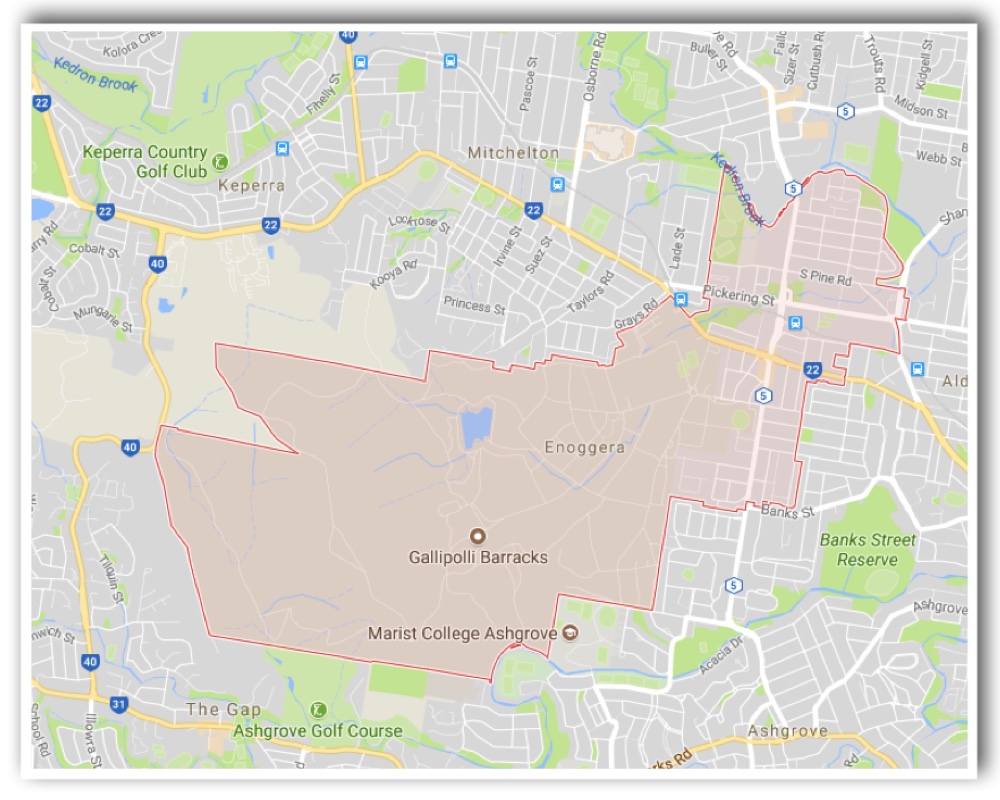 Demographics
The population of Enoggera in 2011 was around 5,032 and continues to grow. 51.6% of households in Enoggera are owner occupied and consistent predominantly of couples with children.
Shops, restaurants and entertainment
Pickering Street is Enoggera's main shopping and industrial strip with popular automotive, electrical, flooring and camping stores. For groceries, most residents head either to South Pine road in Everton Park or to Alderley where there is a coles supermarket opposite the Alderley train station.
Transport
Enoggera train station is located within walking distance for most local residents. Trains provide a quick and convenient connection with the Brisbane CBD.
Schools
The area is home to a number of great private and public schools including Hillbrook Anglican School, Our Lady of the Assumption Catholic School and Enoggera State School
Parks and Green spaces
Most residential streets in Enoggera are leafy and tranquil. Kedron Brook Bikeway and parks along the Kedron Brook (in the northern part of Enoggera) are very popular among local residents. Kedron Brook Bikeway is perfect for cyclists, runners and walkers and provides good bicycle access to the city.
The quaint Banks Street Reserve, containing over 30 hectares of bushland and open space. is also in very close proximity, just south east of Enoggera.
Major employers
The Australian Army is the major employer in the area, but many residents also commute to the Brisbane CBD for work.
Most and least desirable areas
Due to the army barracks being located within the suburb, the area is very popular with the Australian Defence Force employees. Many Defence Housing Australia properties are located within the suburb.
Pickering Street is a light industrial area immediately adjacent properties are less desirable. Buyers should also be aware of traffic noise, which can be an issue for properties close to major thoroughfares including Wardell Street, Samford Road, South Pine Road, Pickering Street and Sicklefield Road. Some streets around the Gallipoli Barracks with access to the army base can be quite busy very early in the morning and in the afternoons.
Buyers should check the Brisbane City Council Flood Maps, as some areas (especially in close proximity to Kedron Brook) are susceptible to flooding.
Housing type and typical block size
The vast majority (63%) of properties in Enoggera are free standing houses.
The suburb is particularly well known for its character Queenslander homes and post war weatherboard houses. A typical block size for this type of home is around 600m2. There has been quite a bit of renovation activity in Enoggera in recent years as the suburb is becoming increasingly more popular with young families. Some post war homes have been removed to allow for subdivisions and the construction of contemporary homes on smaller sized blocks (405m2).
What can my money buy in Enoggera?
The median house price in Enoggera is $697,500, which is above Brisbane's median.
The median house price in Enoggera would typically buy a 3 bedroom, 2 bathroom house on a 400m2 block. For example: 30 Hawthorne Street, Enoggera – sold for $685,000 (Jun 2017) click to view listing.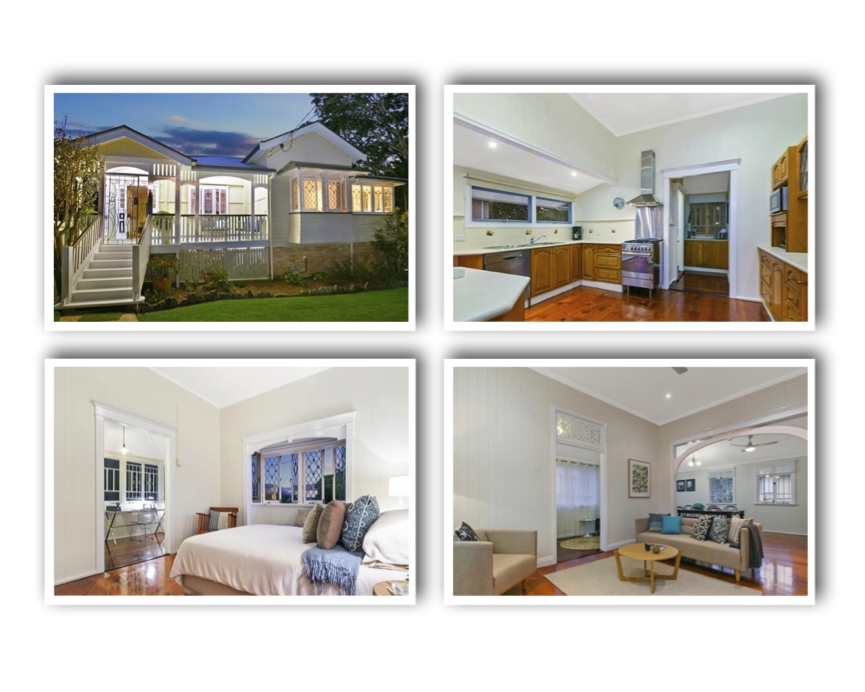 The median unit price in Enoggera is: $412,000
This amount would typically buy a 3 bedroom, 2 bathroom, 1 garage townhouse in a modern complex in very good condition. For example: 3/27 Pratt Street, Enoggera – $430,000 (Jan 2017) click to view listing.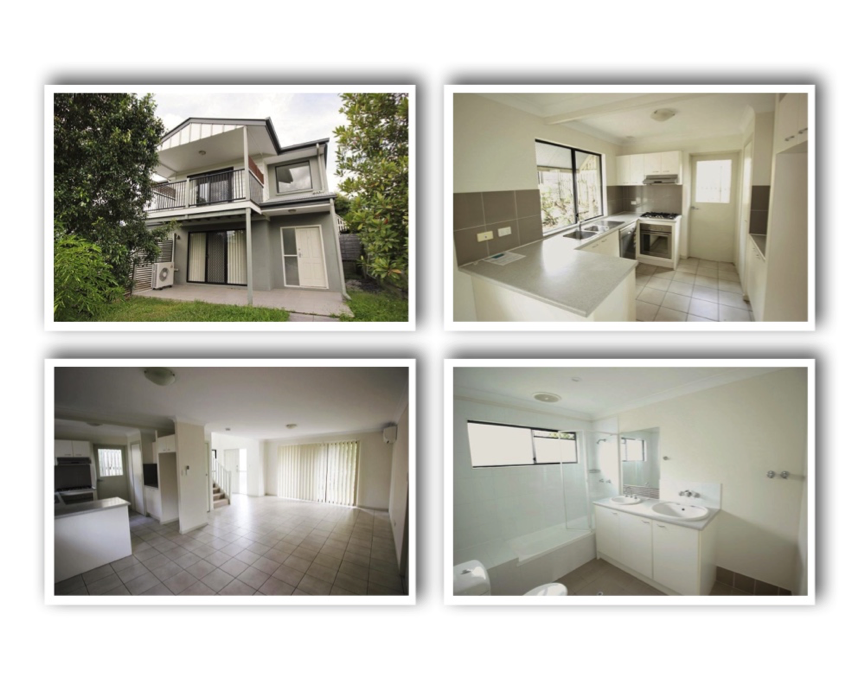 How has the Enoggera property market been performing?
In the last 5 years the median house price has increased by 36.2%. Over the last 10 years, house prices have increased by 5.2% per annum.
Units in Enoggera have seen more modest price growth. In the last 5 years the median price of units has increased by 2.9%. On average, over the last 10 years unit prices have increased by 2% per annum.
Supply and demand characteristics for Enoggera
Houses are typically selling within 42 days (Units typically sell within 117 days).
On average houses are selling 4% below their list price. (Units typically sell 6% below their list price).
Auction clearance rates for houses is 57% (compared to 50% for units).
Average rental yield for houses is 3.35% (compared to 4.95% for units).
There is a shortage of houses currently listed for sale (1.78%), (There is a large number of units currently listed for sale (4.11%)).
Rental vacancy rate for houses is 3.9% (units also 3.9%).
**Statistics are accurate for July 2017
Check out Enoggera' Districts Historical Society's Facebook page for more information (click here) for some additional information, interesting facts and events in the suburb.
Thinking about buying a property in Enoggera? Our Enoggera Buyer's Agent is more than happy to have a chat. Please contact us.
For information about other Brisbane suburbs click here.