Brisbane Cross River Rail Project – A property Investor's guide
The Brisbane Cross River Rail Project is one of several major infrastructure projects planned for construction in Queensland over the next decade. As Investment buyers agents, Your Property Hound has investigated how this infrastructure project is likely to impact on property prices and which Brisbane suburbs are set to benefit.
What is the Brisbane Cross River Rail Project?
The Brisbane Cross River Rail Project will create a 10.2km rail link connecting the southern suburb of Dutton Park, to Bowen Hills in Brisbane's north. The project includes a 5.9km tunnel under the Brisbane River and the CBD, and the construction of new stations at Boggo Road, Woolloongabba, Albert and Roma Streets in the city and at the Exhibition showgrounds at Bowen Hills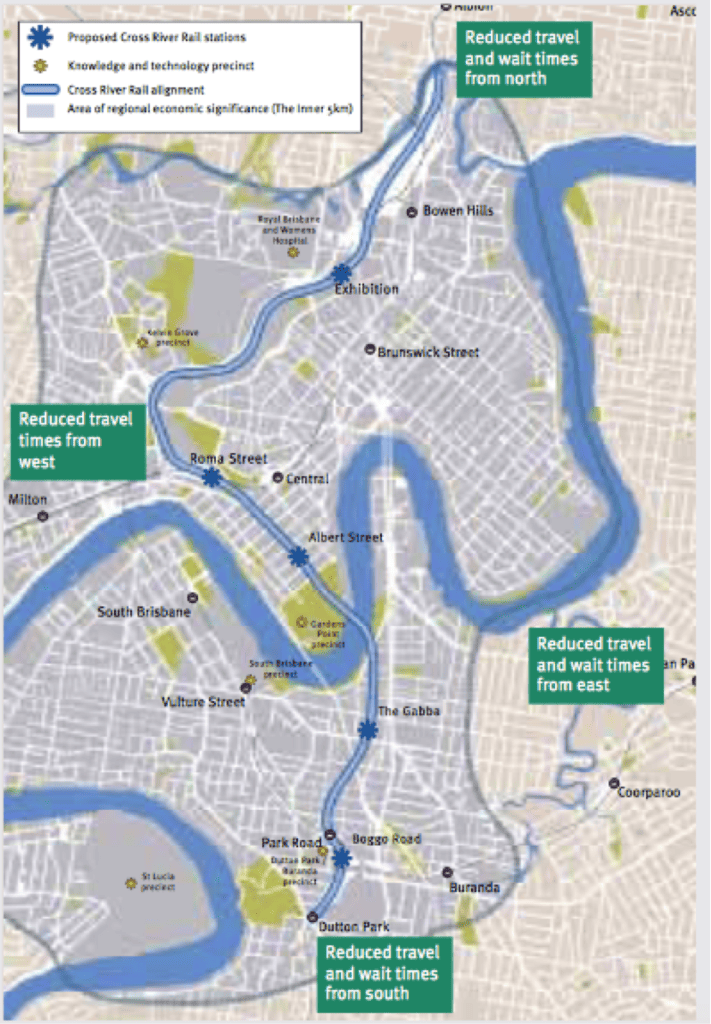 The Brisbane Cross River Rail Project will create a second rail crossing over the river helping to support the region's strong population growth. The project has been designed to ease traffic congestion, and improve accessibility into the CBD. In 2017, the Queensland state government committed to fully fund the $5.4 billion project.   Work is set to commence at the end of 2017, with the project becoming operational by 2024.
What does it mean for South East Queensland and for Brisbane?
The Brisbane Cross River Rail project will have a major impact on the Queensland economy with forecasters predicting that it will boost the economy by $70 billion and create thousands of new jobs. Brisbane residents and visitors who travel to the city for work and recreation will likely benefit most by the project.
The inner-city suburbs of Woolloongabba, Dutton Park and Bowen Hills will benefit from the construction of new train stations. These areas have experienced massive redevelopment over the last decade and will become more desirable to tenants and homebuyers helping to fuel capital growth and lower rental vacancy rates.
The Brisbane Cross River Rail project will also benefit the wider Brisbane community. Having a more efficient public transport system and the convenience of additional stations, will make travelling via public transport more popular. People will actively seek to live closer to major transport hubs and properties within walking distance of stations will become increasingly sought after.
How can property investors capitalize on the Brisbane Cross River Rail project?
The opportunity for investors, is to buy properties in the inner city suburbs of Woolloongabba, Dutton Park and Bowen Hills within walking distance to the Cross River Rail stations. There will be high demand for properties near, but not too close to the train stations. These suburbs are already dominated by unit developments with several new master planned complexes in close proximity to the proposed stations, some of which are already underway. Existing housing stock or units in small boutique complexes may offer better opportunities for investors.
Investors should also look to purchase properties within walking distance of train stations and transport hubs in Brisbane's middle and outer suburbs. These areas will become more and more desirable as the efficiency of Brisbane's public transport system improves. Specifically, Southside suburbs adjacent to the Beenleign train line may offer the best opportunities for investors. These suburbs include Fairfield, Annerley, Yeronga, Yeerongpilly, Moorooka, Rocklea, Salisbury and Coopers Plains.
As investment Buyers Agents, Your Property Hound can assist investors to source suitable properties that best meet their criteria.
Are there any risks?
As with all projects that rely on government funding there is always a risk that the project will not go ahead or that substantial changes will be made to its design. Investments that rely on the Brisbane Cross River Project should therefore be considered speculative (at least until construction begins!).
Brisbane is currently experiencing a boom in the construction of inner-city high rise unit developments. Many economists are predicting an oversupply of units at least in the short to medium term. Investors should therefore be cautious about purchasing these products and have a long term strategy to their investment.
Buying an investment property in Brisbane should not be based on a single infrastructure project (regardless of the magnitude of that project!). Investors need to research their preferred suburbs in detail and perform due diligence on any properties of interest. Employing the services of an investment buyers agent can be money well spent. (Especially for buyers inexperienced or unfamiliar with the Brisbane property market.
For more information as well as updates on this exciting project, visit www.crossriverrail.qld.gov.au.
Matt Reeves is a investment buyers agent at Your Property Hound. More information on Brisbane infrastructure projects can be found here.