Brisbane Rental Market Update –July 2016
Your Property Hound is a boutique buyer's agent service helping investors to purchase residential real estate in Brisbane. As part of the service for investors, we provide a regular Brisbane Rental Market Update so that clients can make informed buying decisions.
Brisbane Rental Yields
Rental yield is an important indicator of the supply and demand for property.
Brisbane's rental yield for June remains steady at 4.3%.  Rental yields in Brisbane continue to out-perform Canberra (4.1%), Adelaide (4.1%), Perth (3.8%), Sydney (3.1%), and Melbourne (3.0%).
Brisbane Rental Vacancy Rates
Brisbane's vacancy rate has remained steady for the month of June at 2.8% indicating a balanced rental market.  (A balanced rental market has a vacancy rate of around 3%.)
Brisbane Rents
On a national basis, house rents have fallen 0.09% while unit rents have increase by 1.5%. Hobart has achieved an increase of 3.6%, no other capital cities have achieved growth of more than 2%
In Brisbane house and unit rents have fallen slightly over the past year (houses -0.2% and units -0.8%) (source CoreLogic)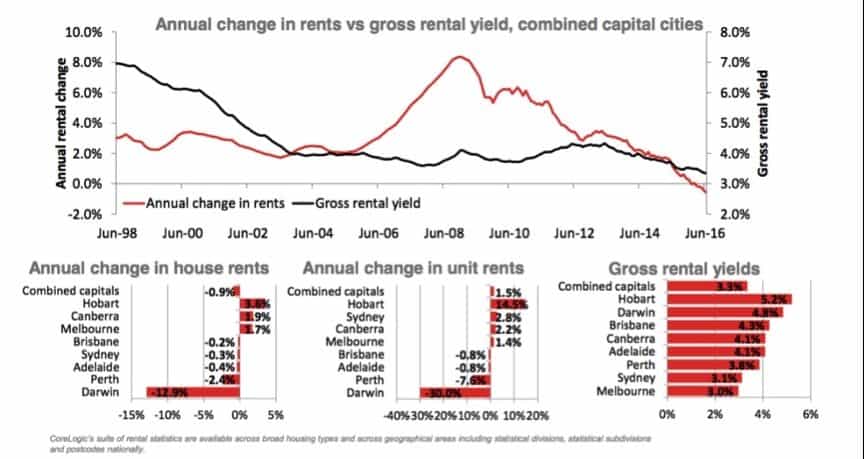 Brisbane: Rental yields vs property type
In Brisbane, units tend achieve the highest rental return for investors. Units with 2 bedrooms tend to perform better than 3 bedroom units.
When looking at houses, those with 3 bedrooms provide the best yields. (see graph below courtesy of SQM Research)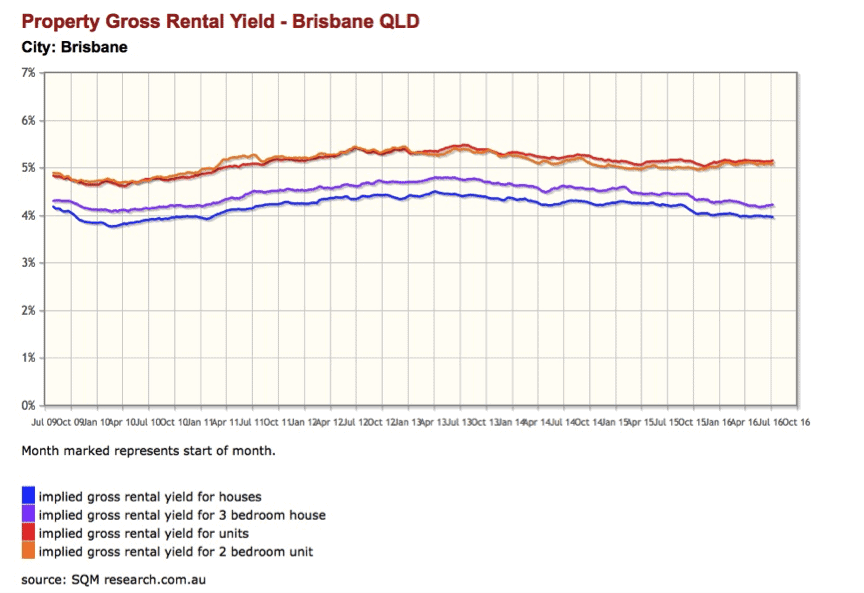 Your Property Hound is a Brisbane based buyer's agent. We are active in the local market and have the knowledge to assist you in buying property suited to your needs. Please contact us  for further information.