Brisbane Rental Market Update – Dec 2015
Your Property Hound is a boutique buyer's agent service helping investors to purchase residential real estate in Brisbane. As part of the service for investors, we provide a regular Brisbane Rental Market Update so that clients can make informed buying decisions.
Brisbane Rental Yields
Rental yield is an important indicator of the supply and demand for property .  A balanced rental market has a vacancy rate of around 3%.
Brisbane rental vacancy rates are unchanged for the month of December.   (Vacancy rate of 2.6% equivalent to 8,174 dwellings). There is currently a small shortage in rental properties in Brisbane. Over the last 12 months, Brisbane's vacancy rate has increased slightly from 2.2%. (Source SQM Research)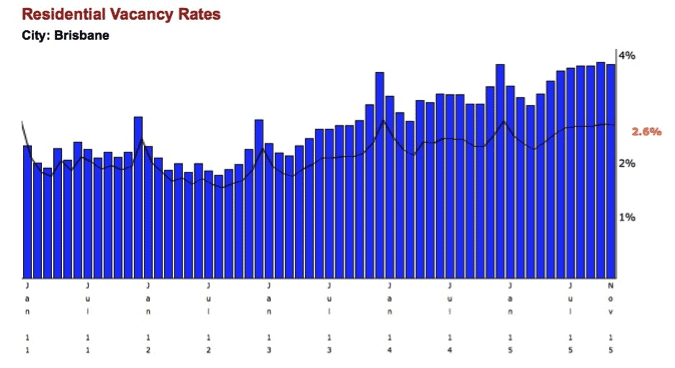 Brisbane Rents
Over the last 12 months the average rent for residential properties (houses and units combined) in Brisbane was $430/wk. This figure is marginally lower (-0.03%) than the previous year.
On a national basis, Sydney and Melbourne have recorded the greatest increases in weekly rents. Unfortunately these increases have not kept pace with capital growth rates and as a consequence trental yields in Sydney and Melbourne remain the lowest in the country.
Over the same time period rents in Adelaide, Perth and Darwin have fallen, and rents in Hobart are unchanged. (source CoreLogic)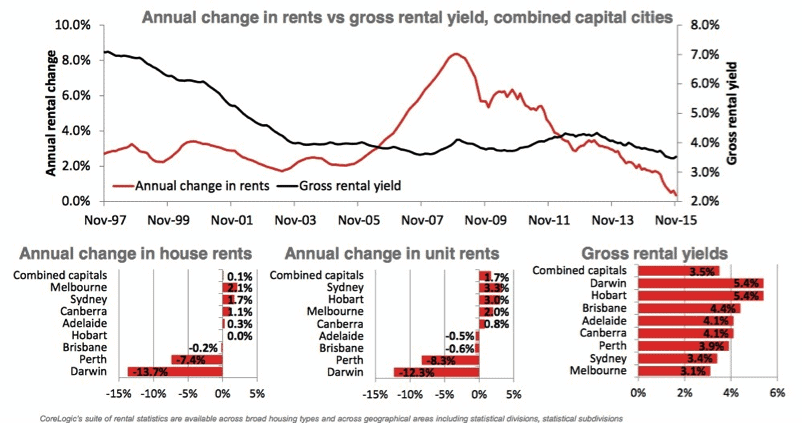 CoreLogic RP Data research analyst Cameron Kusher has forecast that the national rental market will likely continue to slow in 2016:
"It is anticipated that the rate of rental growth will continue to slow over the coming months due to increased supply of housing and rental stock coupled with slower migration rates which has reduced rental demand. The construction boom across the capital cities, coupled with slowing population growth, low mortgage rates and the recent heightened level of activity from investors who add to the pool of rental stock are the major contributing factors to the slowing rental growth." Cameron Kusher
Brisbane: Rental yields vs property type
In Brisbane, units tend achieve the highest rental return for investors. Units with 2 bedrooms tend to perform better than 3 bedroom units.
When looking at houses, those with 3 bedrooms provide the best yields. (see graph below courtesy of SQM Research)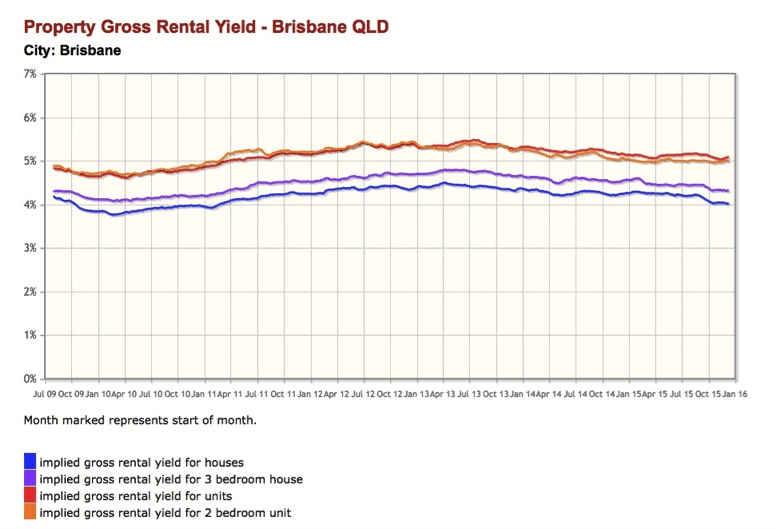 Your Property Hound is a Brisbane based buyer's agent. We are active in the local market and have the knowledge to assist you in buying property suited to your needs. Please contact us or visit our website for further information.