Kenmore Buyers Agent's Guide
Are you looking to purchase a home or investment property in Kenmore? As a Kenmore Buyers' Agent we'd be happy to help and have compiled the following suburb profile for your information. Best wishes with your Kenmore property purchase!
Description
Kenmore is a very leafy suburb located 11.5km southwest of the Brisbane CBD. The suburb is best known for its affordability vs proximity to the city and its 2 major retail centres making it a very liveable suburb. Kenmore is bordered by the suburbs Kenmore Hills, Brookfield, Pullenvale, Chapel Hill and Fig Tree Pocket.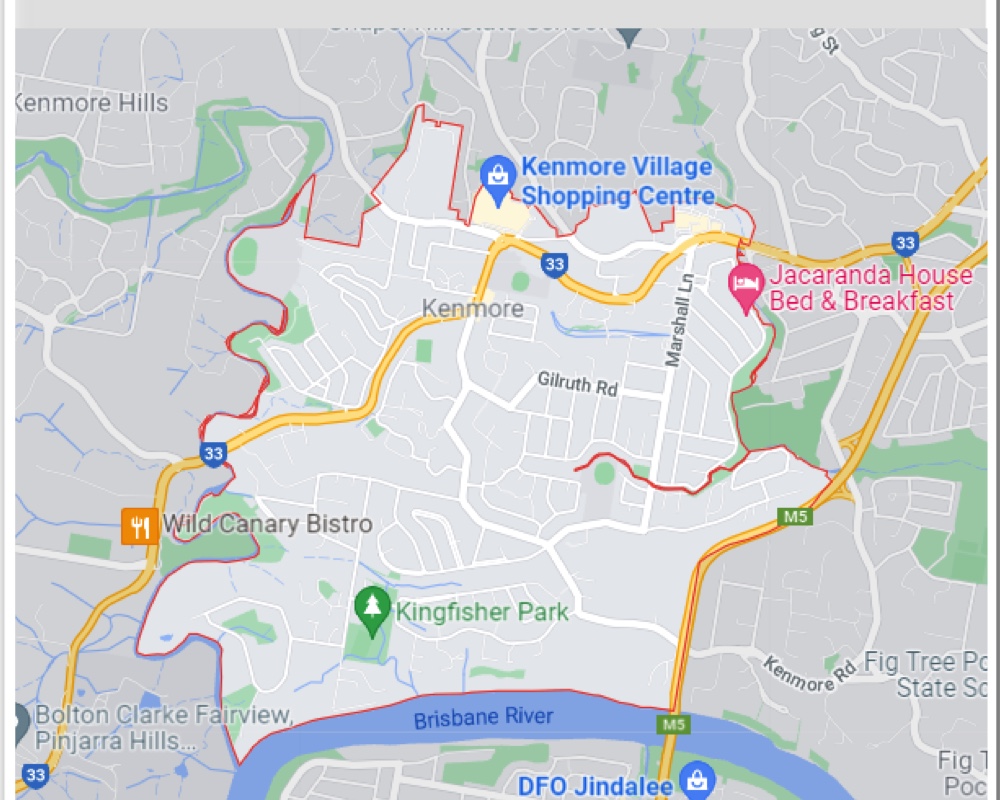 Demographics
The population of Kenmore in 2016 was around 8,482 and continues to grow. 80.8% of households in Kenmore are owner occupied. Households in Kenmore are primarily couples with children and are likely to be repaying $1800 – $2399 per month on mortgage repayments.
Shops, restaurants and entertainment
Kenmore has 2 major retail centres, both with supermarkets, cafes, bakeries, mechanics and business districts just to name a few. Both of these retail precincts are located on Moggill Road and are very accessible from most areas of Kenmore (within 5-10min drive)
Transport
Several convenient bus services connect Kenmore with the Brisbane CBD and the outer suburbs of Brisbane. Stop stops are located along Moggill Road, Kenmore Road and Brookfield Road. Most houses in Kenmore are no more than a 5 minute walk to a bus route.
Schools
The area is home to a number of great private and public schools including:
Parks and Green spaces
There is an abundance of parks, sports grounds and green spaces in and around the suburb.
Kenmore has easy access to Mount Cootha, which has over 15km of hiking and mountain bike trails, and is one of the most beautiful reserves of Brisbane
It is home to some great picnic spots and play grounds, including Akuna Street Park, Kingfisher Park, Dumbarton Drive Park just to name a few.
Major employers
Most residents commute to the Brisbane CBD for work.
Most and least desirable areas
Some of Kenmore's more significant sales have occurred on Sunset Road, Gem Road, Kenmore Road and Riviere Place (a more modern development or Kenmore)
Traffic noise can be an issue for properties close to major thoroughfares including Moggill Road and The Centenary Highway (bordering down the eastern side of Kenmore). Buyers should check the Brisbane City Council Flood Maps, as some areas (especially pockets closer to the Brisbane River and Moggill Creek) are susceptible to flooding.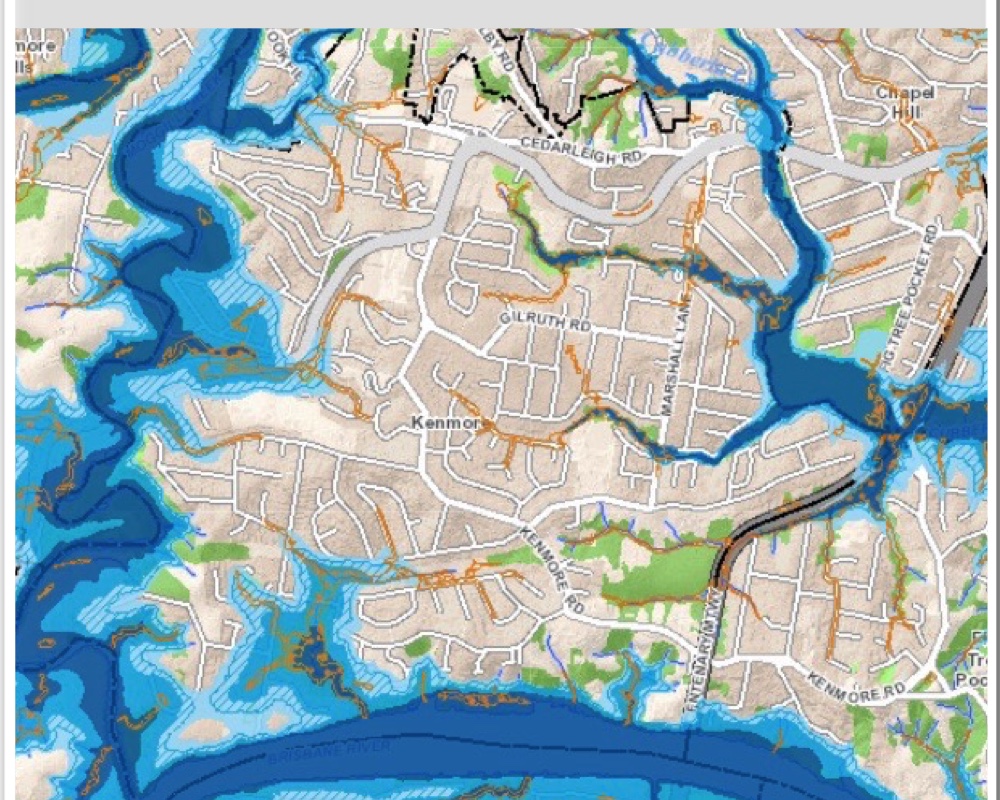 Housing type and typical block size
The vast majority (82.81%) of properties in Kenmore are free standing houses. There are small numbers of townhouse complexes.  Apartments are uncommon in the area.
Kenmore was mostly developed in the 70's, 80's and 90's and  brick and tile homes are common. A typical block size in Kenmore is anywhere from 600m2 -800m2, with some acreage lots.
What can my money buy in Kenmore?
The median house price in Kenmore is $863,250 which is slightly above Brisbane's median price of $835,000.
The median house price in Kenmore would typically buy a 3 bedroom, 2 bathroom house on a 607m2 block.
For example: 62 Gilruth Road, Kenmore – sold for $863,500 in September, 2021 (click to view listing and see images below)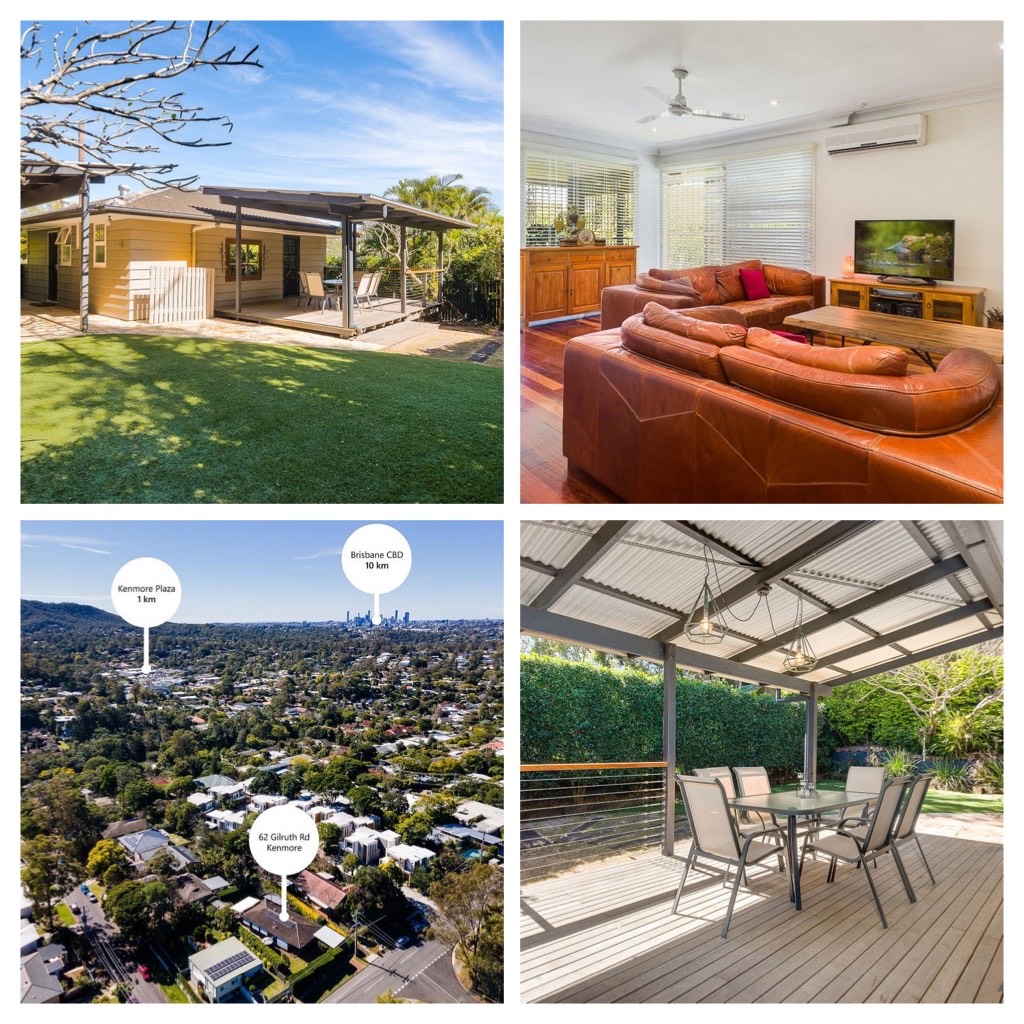 The median unit (townhouse) price in Kenmore is: $681,500.
This amount would typically buy a 3 bedroom, 3 bathroom, 1 garage townhouse in an 1990's style complex.
For example: 36/19 Merlin Terrace, Kenmore – sold for $620,000 in December 2021 (click to view listing and see images below).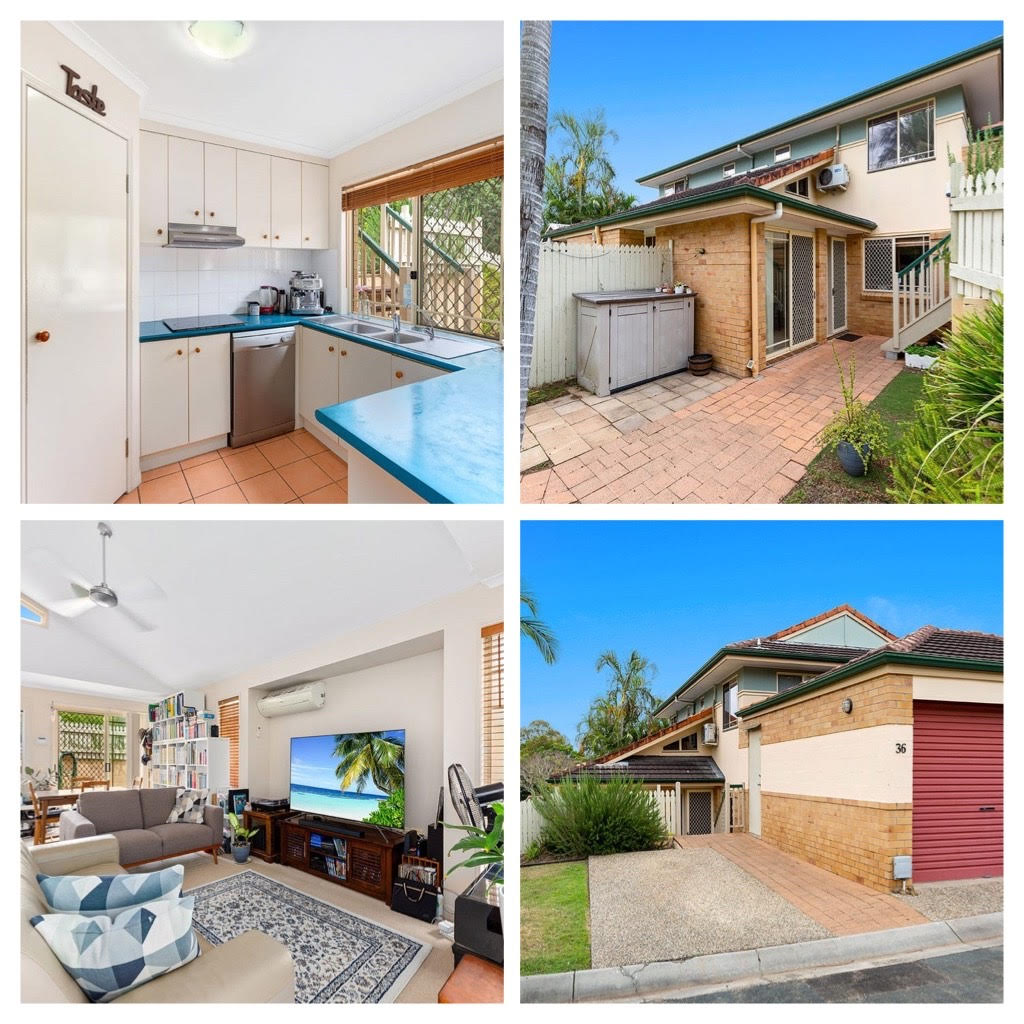 How has the Kenmore property market been performing?
In the last 5 years the median house price has increased by 30.7%. Over the last 10 years, house prices have increased by 4.9% per annum.
Units in Kenmore have seen more modest price growth. In the last 5 years the median price of units has increased by 9.1%. On average, over the last 10 years unit prices have increased by 1.4% per annum.
Supply and demand characteristics for Kenmore
Average Days on Market for houses is 30 days.
On average houses are selling 0.6% above their list price.
Kenmore's auction clearance rates is 67% for houses.
The average rental yield for houses is 3.3%
There is a shortage of houses currently listed for sale (1.16%), (There is a large number of units currently listed for sale (16.46%)).
The rental vacancy rate for houses is 1%, compared to units 10%.
**Statistics are accurate for September 2021
Thinking about buying a property in Kenmore? Our Kenmore Buyers' Agent is more than happy to have a chat. Please contact us.
For information about other Brisbane suburbs click here.