Should I Invest in Gladstone, Queensland?
Gladstone Property Market | Property Analysis
When it comes to Queensland property investment the Gladstone Region has had more than its fair share of media attention.  So what is all the fuss about?  Is it really the investor hotspot that everyone claims?   Your Property Hound has his nose on the ground in Gladstone and uncovers the truth about the Gladstone Property Market!
Gladstone City Overview
The town of Gladstone is located on the coast of Central Queensland approximately 550km north of Brisbane.  The Gladstone local government area (LGA) is the second fastest growth area in the state with a massive 3.5% increase in population occurring between 2010-2011 (ABS).   The LGA of Gladstone has a current population of over 62,000 people (ABS) and incorporates the townships of:
Gladstone
Calliope
Mount Larcom
Boyne Valley
Boyne Island
Tannum
Agnes Waters
Seventeen-Seventy
This population growth has placed significant pressure on existing housing supply and has fueled the interest of developers and investors wanting to capitalize on the high rental returns and capital growth potential.  In 2010-2011 units in the Gladstone Region outperformed all other LGA's achieving a massive 21.3% capital growth (
Residex
Nov 2012).  The ten year average price growth for house and units in the Gladstone region have also been very impressive (11.4% (houses); 15.3% (units) Residex Nov 2012.)
| Gladstone LGA | Housing | Units |
| --- | --- | --- |
| Median Value (2012) | $439,500 | $340,500 |
| Average Growth Rate (last 10 years) | 11.4% | 15.3% |
| Rental Yield (10y average) | 5.4% | 5.9% |
Residex 2012
What lead to this massive growth in population and property prices and is it likely continue?
Much of the recent growth in the Gladstone Region can be attributed to massive new developments in the transport and processing of Liquid Natural Gas (LNG); the expansion of existing coal and aluminum processing operations;  and the infrastructure needed to support these industries.

Projects Currently Under Construction or With Approval
Budget
Construction Workforce
Operational Workforce
Completion
LNG production facilities at Curtis Island
Qld Curtis LNG
$15bil
5000
1000
2014
GLNG (Santos etc)
$16bil
5000
1000
2015
Aus Pacific LNG (Origin etc)
$14bil
2015
Aluminum Processing
Rio Tinto Alcan
$2.4bil
Complete
200
Complete
Boyne Smelters Development
$700mil
670
Nil
2012
Coal Processing
Wiggins Island Coal Terminal
$2.5bil
2000
120
2014
Nickel Processing
Gladstone Pacific Nickel Limited
$3.65bil
1000-2300
530
N/A
Supporting Infrastructure
Powerlink
$300mil
2014
Western Basin Dredging, Disposal
$343mil
N/A
N/A
2051
Curtis Island Water and Sewage
$100mil
TBA
TBA
2012
Arrow Energy, AGL Pipeline
$480mil
300-350
8-10
TBA
Fishermans Landing Reclamation
N/A
Completed
Nil
Complete
Gladstone Area Water Board
$400mil
400
TBA
TBA
Surat Basin Rail
$1bil
1000
44
TBA
The growth in property prices, and rental returns, in Gladstone and surrounding communities can be attributed to  the pressure of a burgeoning workforce on existing housing supply.  This pressure will be greatest during the construction phase of development, which requires up to five times the labour force that the projects will require once complete.
Given that many of these projects will be completed by 2015 there is the likelihood that demand for housing will soften in the Gladstone area.  Furthermore, the supply of housing continues to increase, with building approvals for new residential property remaining strong.  This could exacerbate the softening of property prices in the medium term.
Ultimately price growth beyond 2015 will rely on the approval of significant new developments and the expansion of existing industries.   Unless this occurs Gladstone is likely to see a declining workforce/population and a growing supply of housing.
Your Property Hound advises caution in investing in the Gladstone region beyond 2015.
Gladstone Region Population Growth and New Building Approvals (ABS)
Year Ending June 30
Population Growth
Building Approvals
Number
Annual Change
Number
Annual Change
2012
N/A
N/A
1110
 +429
2011
59,402
+1,349
681
 +277
2010
58,053
+311
404
+16
2009
57,742
+1,246
388
 N/A
2008
56,496
+1,441
N/A
N/A
2007
55,085
+1,144
699
+168
2006
53,941
+1,755
531
+15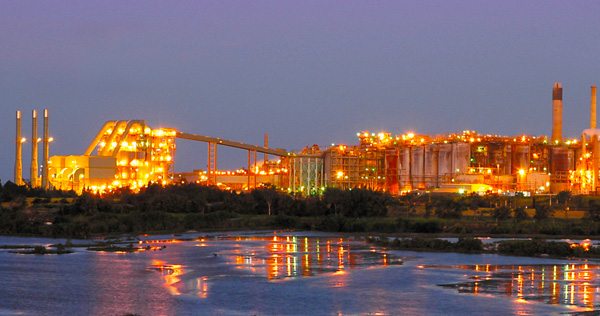 Photo courtesy of
Gladstone Area
.   We value your feedback and comments.  If you found this post helpful and think others would benefit from it too, please share it by clicking on one of the buttons below: