Buying an Investment Property in Brisbane – Keperra Case Study
The Brief:
To purchase a property with 15km of the Brisbane CBD with strong capital growth potential and positive cash flow.
Budget: Up to $550,000
Strategy:
To purchase below the median price for the suburb
To manufacture instant equity and improve rental yield by performing major renovation.
Plan on holding property long term (15years+).
The Property
A 3 bed, 1 bath, post-war weatherboard home on a 612m2 block
Purchased for $419,800 in December 2017
The property required major renovation (and could not be tenanted in its original condition!)
The Location
Located 11.5km from Brisbane CBD in a leafy pocket of Keperra
The property is within walking distance to a train station, schools, local shops and parks.
Keperra was selected for its strong capital growth potential:

Existing Transport Infrastructure: A train line runs through the suburb allowing for quick and convenient access to the Brisbane CBD.
Strong Employment. The Australian Defence Force is a major local employer with many employees renting in the surrounding suburbs
Gentrification: Housing commission properties in the area are being sold-off and many properties are currently undergoing renovation.
New developments: A new Bunnings store has recently opened in the area and additional commercial property is currently being built.  Brisbane City Council has also approved the redevelopment of the Keperra quarry.
Adjacent Suburbs: Keperra is also likely to benefit from recent capital growth and development in adjacent Mitchelton.
Supply and demand characteristics: rental vacancy rates are low (1.2%), there is limited stock on the market (1.22%), and properties are selling quickly (Average days on market: 38).
The Project: Add equity and improve cash flow through renovation.
While the previous owners attempted to renovate the property by updating the bathroom and the kitchen, the work was poorly executed and was not compliant with current building regulations.
The frame, weatherboards and timber floorboards were all that was left of the original building. The house was completely gutted internally.
The floor plan was reconfigured to create a light-filled open plan kitchen, dining and living area.
A large deck was added to the rear of the property, accessed through bi-fold doors off the dining room.
The interior was modernised by painting all surfaces in neutral colours, adding modern lighting, and fans.   Air-conditioning units were added to the living room and the master bedroom.
The kitchen and bathroom were reconfigured and fully renovated.
Outside, a double carport was constructed at the front and clever landscaping created a low maintenance and spacious yard.
Much of the labour was performed by the purchaser to keep renovation costs as low as possible.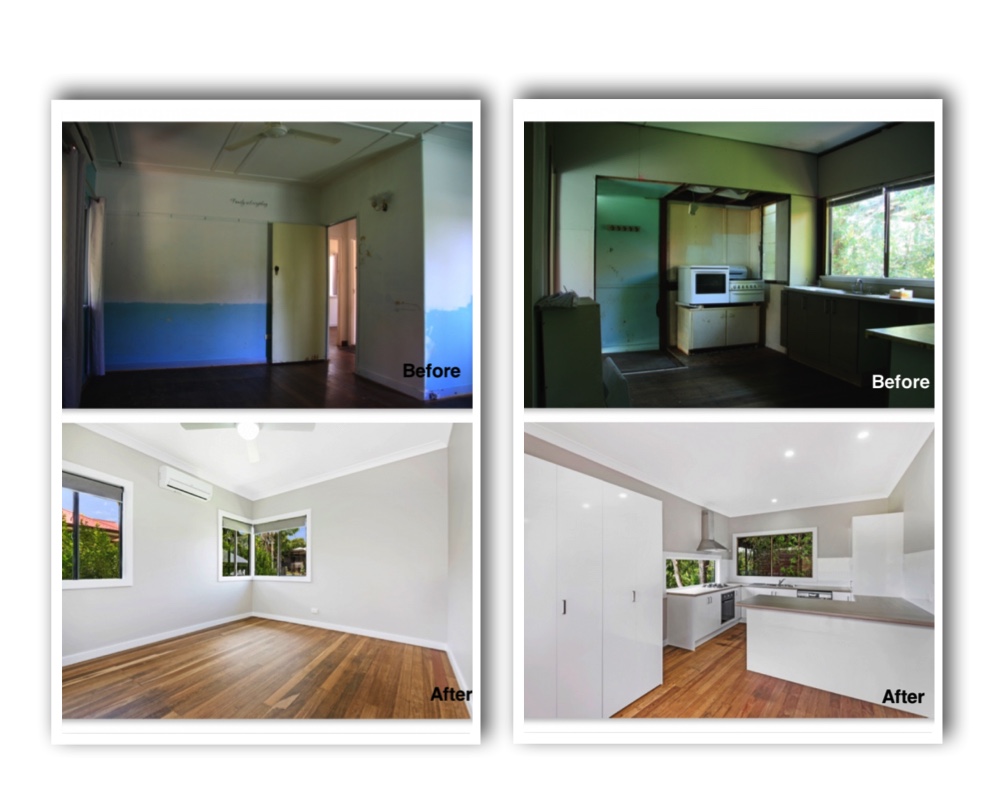 The numbers
| | |
| --- | --- |
| Purchase Price:  | $419,800 |
| Purchase costs:  | $14,680 |
| Renovation costs: | |
| Approximate renovation costs breakdown: | |
| Professional fees (engineering, certifier, builder, approvals): | $8,000 |
| New driveway and double carport | $16,000 |
| Deck | $22,000 |
| Roof + gutters | $12,000 |
| Earthworks and landscaping (soft and hard) | $10,000 |
| New kitchen | $8,000 |
| Tiling and waterproofing (incl. tiles) | $3,000 |
| Floor sanding and polishing | $3,100 |
| Plastering + painting (labour and materials): | $7,000 |
| Asbestos removal | $3,200 |
| Other | $27,700 |
| Total Renovation Cost | $120,000 |
| Total Spend | $554,480 |
| Current valuation:  | $580,000 |
| Net equity gain:  | $25,520 |
| Previous rent:  | Non-rentable |
| Current rent:  | $520/wk |
Cash Flow Analysis
The property is cash flow positive after tax by $72/wk based on the following assumptions:
Finance Amount: $554,480
Interest only loan @ 3.8%
Current marginal tax rate 37%
Rent @ $520/wk with 2% vacancy rate
Depreciating the cost of renovations
Conclusion
By adopting a renovate and hold strategy, it was possible to purchase a property in an area tipped for strong capital growth, and achieve positive cash flow.